Product Description
GPS navigation device with driver warning features
Easy-to-use GPS navigation device with 5.0-inch screen with dual orientation

Pre-installed, detailed maps of Europe with free lifetime map updates

Driver warning features include warnings for dangerous curves, modified maximum speed, fatigue and school areas

The Garmin Real Directions ™ feature indicates the way, using easy-to-recognize landmarks and traffic lights.

Find new and popular restaurants, shops and more Foursquare

®
Convenient warning features for daily traffic
The Garmin Drive 50 GPS navigation device has warning features to alert the driver in a timely manner to potential hazards and safer driving behavior. For example, the driver is warned for sharp turns, modified maximum speed, railroad crossings and crossing wild. Additionally, the Garmin Drive warns you 50 if you drive from the wrong side to one-way street and when you approach school zones. You will receive alerts when approaching red light cameras and flashes and alert you to approaching traffic jams. For long journeys, the alert for fatigue 4 shows you on possible rest places to take a break after hours of driving. The Continue feature shows you in the map view for approaching service points or milestones,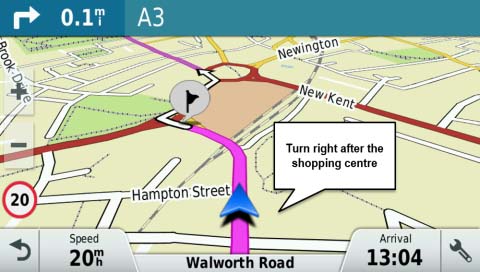 Indications based on recognizable landmarks
Your Garmin Drive 50 features Garmin Real Directions ™ with new "Speech-to-Spell Clues", easy-to-understand, friendly spoken directions based on recognizable landmarks, buildings, and traffic lights (for example, "Turn right after the red building" or Turn left onto McDonalds). Thanks to Foursquare, the device can punch out a database of millions of new and popular useful points.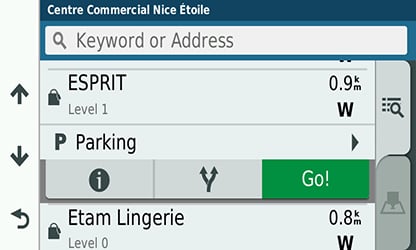 Always find the right location exactly
The Direct Access feature simplifies navigation to destinations in large complexes, such as airports and shopping malls, and points the way in such a larger location. Navigating to a mall provides Direct Access with additional information about the location of certain stores. For example, "Arrived at Lake Side. Debenhams is on the top floor. "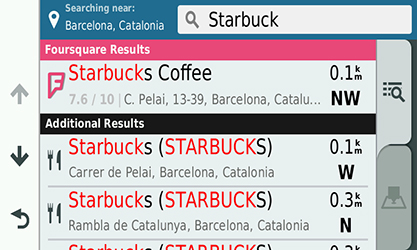 Easier search, found faster
The Garmin Drive 50 has a search box that allows you to easily find addresses and millions of useful points from one location. You simply enter a category (such as "pizza"), a whole address or a name ("Starbucks") and your Garmin Drive 50 produces fast results. In case of typo, your Garmin Drive 50 offers multiple search results that match the search term you entered.
Add a camera to your Garmin Drive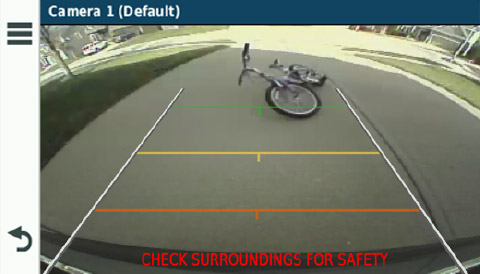 For a full navigation solution, you can connect the Garmin Drive 50 with the BC ™ 30 Wireless Backup Camera (sold separately, installation recommended by an installer). When the camera is connected, you will see immediately on the screen of your Garmin Drive 50, if there are vehicles, pedestrians or other obstacles behind you. To transport a baby or toddler you can add a Garmin babyCam ™ to your navigation device. BabyCam is a video monitor for the car that lets you see your passenger seat (s) on the rear seat on the screen of your navigation device directly on demand.
Additional Information
| | |
| --- | --- |
| SKU | GPS-L15970 |
| Manufacturer | Garmin |
| Screen Size | 5.0" |
| Preloaded Maps | Yes |
| Junction View (displays junction signs) | Yes (photoReal junction view) |
| Speed Limit Indicator (displays speed limit for most major roads) | Yes |
| Card Reader | Yes |
| Dimensions (W x H x D) / Weight | 14.0 x 8.4 x 2.0 cm / 170.8 g |
| Manufacturer's Warranty | 2 Years - Terms & Conditions |
| Right of Withdrawal | Information on your Rights to Cancel are in Part 2 (c) of the General Terms |